The rise of social media has and continues to greatly influence the way brands are speaking to consumers. More and more brands are beginning to integrate their campaigns with social components in order to give consumers the chance to be "part of the conversation." This was greatly demonstrated in several advertisements during Superbowl XLVII. According to an article from Mashable, social media activity was 3.1 times higher than social media activity during the 2012 Superbowl. Advertisers contributed to this activity by encouraging viewers to mention them in social channels at the end of their television spots.
Tide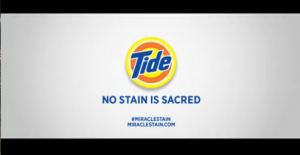 As can be seen, many brands chose to build buzz around their brands via Twitter by promoting specialized hash-tags. Few chose to promote both Facebook and Twitter such as Disney (as can be see below):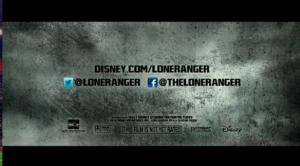 Oreo differentiated from all of the brands and chose to promote their brand and build buzz around their commercial via Instagram: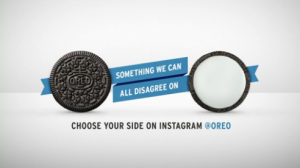 By integrating traditional and digital media campaigns, brands are able to capitalize on buzz and exposure to their brand. Consumers are also able to interact with the brand— increasing loyalty and brand preference  According to an article in VentureBeat, out of the 59 national commercials that aired during the Superbowl, Twitter was mentioned in 50% of the ads, Facebook was mentioned in 8% of the ads, Instagram was mentioned in 1 ad, and YouTube was mentioned in 1 ad. Brands clearly chose to integrate social media campaigns into their Superbowl advertisements at a rate that has never been done before. This is confirmed by a Huffington Post article that stated during last year's game, only 1 in 5 ads included a hash-tag. In addition to tweeting and posting about the Superbowl advertisements, many brands tweeted and posted clever images and posts about the blackout and halftime show that occurred during this year's Superbowl. Social media has allowed brands to react instantaneously so that they can quickly capitalize on opportunities to create conversation with consumers.
Integrating social media into traditional advertisements seems to be a relatively new trend that many brands are choosing to adopt. Due to it's widespread success for many brands in Superbowl XLVII, it seems it will only continue to be executed. Although Twitter came out on top this year, with the growing popularity of Instagram and YouTube, the future seems bright for integrated campaigns in the future. As new social media platforms continue to be released, and more established platforms such as Facebook and Twitter continue to grow, it will be interesting to see how integrated campaigns will play out in next years Superbowl.